Hearty Seafood Chowder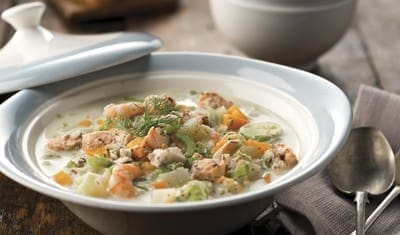 Ingredients
250g Potatoes, peeled and diced
550g Mixed fish skinned and filleted
2 Dessertspoons of Linwoods Milled Organic Flaxseed
2 Tablespoons of olive oil
1 Onion
1 Carrot, diced
1 Stick of celery, chopped
1 Leek, chopped
500ml Fish stock
100ml Cream
A small bunch of fresh parsley
Instructions
Heat the oil in a large saucepan.
Add the onion, carrot, celery and leek and cook until the oil is absorbed.
Cut the fish into chunks and add to the saucepan with the potatoes and water.
Bring slowly to the boil, lower the heat and simmer gently for approximately 20 minutes or until the vegetables and fish are tender.
Add the Linwoods Milled Organic Flaxseed.
Add the cream and season well.
Stir in the chopped parsley, pour into bowls and serve.