Jump to recipe
Banana & Chocolate Chip Pancakes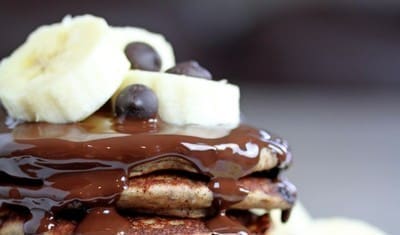 Ingredients
Dry ingredients:
1 cup (110g) oat flour (oats ground up into a flour in the food processor - use gluten-free if allergic/intolerant)
1 tsp baking powder
1 tsp cinnamon
1/4 tsp salt
Wet ingredients:
1 flax egg - 1 tbsp Milled Organic Flaxseed + 3 tbsp hot water
1 ripe banana, mashed (around 100g)
1 tbsp coconut oil, melted
1 tbsp maple syrup or liquid sweetener of choice
1/2 cup (120ml) milk of choice
6 tbsp chocolate chips
Instructions
Prepare your flax egg by mixing 1 tbsp of milled flaxseed with 3 tbsp of hot water. Leave for 10-15 minutes to set.
Mix the dry ingredients in a bowl then add in the wet ingredients. Mix well to combine.
Heat 1/2 tsp of coconut oil in a frying pan over a medium heat. Wait for the oil to heat up, then spoon 2 tbsp of the mixture for each pancake. Cook for about 1-2 minute, then flip over and cook for another 1 minute.
Top with more banana, chocolate chips or melted chocolate.
Enjoy!