Jump to recipe
Breakfast for Healthy Bones & Menopause Friendly
Try this quick and delicious Berry Kefir Parfait breakfast for healthy bones and to support your menopausal symptoms.
Menopause means lower oestrogen levels, and this can increase the risk of osteoporosis, which is weak and thinning bones that may fracture more easily. Having a healthy and nutritious breakfast for healthy bones is essential to ensure you are receiving enough calcium and vitamin D.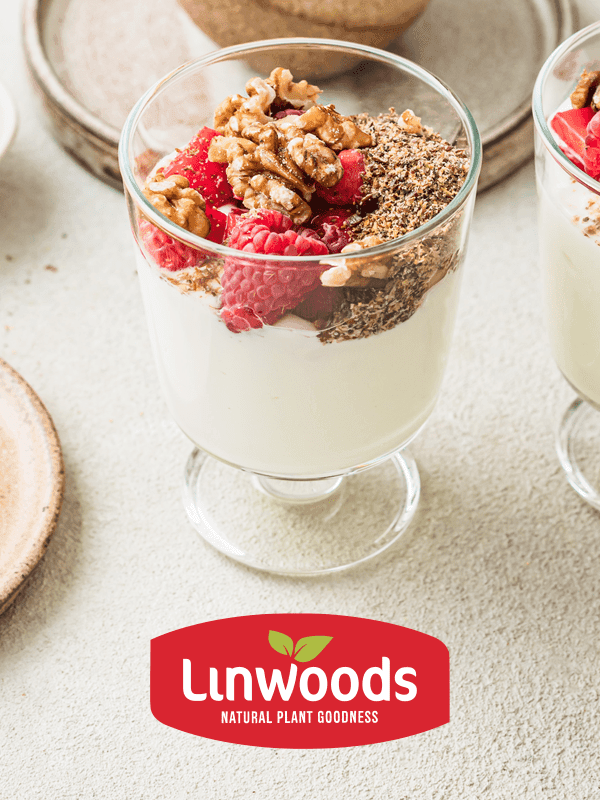 Kefir Berry Parfait

Notes
*Kefir yoghurt will be thicker, if using kefir from a bottle you may want to pour it into a bowl rather than a glass or jar

Ingredients
½ - 1 cup of Kefir or Kefir yoghurt, dairy free if necessary*
½ a cup of berries of choice, we used chopped strawberries and raspberries
1 tbsp Linwoods Menoligna
Small handful of whole roast walnuts
1 tsp Raw Honey
Instructions
Add kefir or kefir yoghurt to a bowl, glass or jar. Top with berries, Menoligna, walnuts and raw honey. A balanced breakfast in a flash!
This creamy Berry Kefir Parfait is not only delicious but includes those important nutrients as it contains Linwoods Menoligna which is high in Calcium, Vitamin D3 and K2 which are needed for the maintenance of normal bones.
Try another Hormone Balancing Breakfast recipe: Simple Vegan Pancakes. Fluffy pancakes topped with sticky sweet maple syrup, juicy blueberries, flaked almonds and creamy yoghurt.
Start your morning right with this delicious Kefir Berry Parfait recipe! Packed with dairy-free options and healthy ingredients like Linwoods Menoligna, it's a perfect breakfast for healthy bones. Try it now! Check out our youtube channel