Delicious recipe for Flaxseed Crackers
Try these crispy and delicious flaxseed crackers which are easy to make as they have just 6 ingredients and are high in Omega 3 (ALA) to help the maintenance of normal blood cholesterol levels.
How to make flaxseed crackers in the oven
Preparation Time: 10 minutes
Cooking Time: 1.5 hours (it's worth it)
Servings: 16 – 20 flaxseed crackers
Flaxseed Crackers Ingredients
80g milled Linwoods Organic Flaxseed

90g whole chia seeds

80g pumpkin seeds*

80g sunflower seeds*

½ tsp Pink Himalayan Rock Salt

250ml water
Directions
Preheat your oven to 150C (300F).

Mix together all ingredients for the flaxseed crackers in a bowl and set to one side for 5 minutes.

Line a large baking tray with baking paper.

Spoon the mixture out onto the tray and spread evenly with the back of a spoon.

Bake in the preheated oven for 40 minutes.

Remove, slice into flaxseed crackers, carefully flip them over one at a time. Return to the oven for 40 more minutes. Allow to cool on the tray. Store in a sealed container for up to 5 days or freeze for up to one month.
*You could use sesame seeds to replace either of these seeds in this flaxseed crackers recipe if you like! You can also use finely chopped or ground nuts to replace one of the seeds in the mixture or an equal amount of rolled jumbo oats. The flaxseed and chia seed are essential for this flaxseed crackers recipe.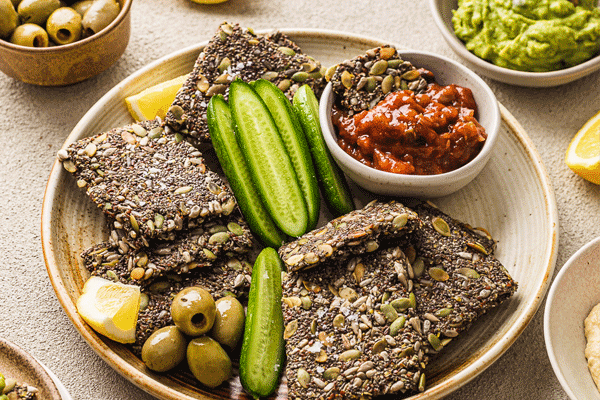 Questions about flaxseed crackers
Are flaxseed crackers healthy?
Flaxseed crackers can be a healthy snack option, depending on their ingredients and how they are prepared. It is important to consider the ingredients and whether they are bought from a shop or homemade. You should pay attention to the nutritional values of any store bought crackers. Our recipe includes our organic flaxseed and chia seeds.