Jump to recipe
Gingerbread cupcakes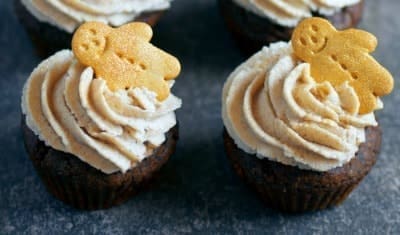 Ingredients
2 cups (220g) oat flour - oats blended into a fine flour in the food processor - use gluten-free oats if you're allergic/intolerant
1 cup (100g) ground almonds
1 tsp baking powder
1/2 tsp baking powder
1/2 cup coconut oil, melted
2/3 cup milk of choice + 1 tsp Apple Cider Vinegar
1/2 tsp salt
1 1/2 tsp cinnamon
1/2 tsp ginger
1/4 tsp allspice
1/4 tsp nutmeg
1/4 tsp cloves
4 tbsp coconut sugar or brown sugar
4 tbsp molasses
6 tbsp hot water
FROSTING:
1 1/2 cups ((225g) cashews - soaked for in water for 4 hours.
3 tbsp coconut oil, melted
3 tbsp maple syrup
6 tbsp milk of choice
Pinch of salt
Instructions
Make the flax 'eggs' by mixing the 2 tbsp milled flaxseed with 6 tbsp hot water. Leave to set for 15 minutes.
Add the apple cider vinegar to the milk and leave to sit for 10-15 minutes.
Pre-heat the oven to 180*C (160*C fan assisted)/ 350*F
In a large bowl, mix the flour, ground almonds, baking powder, baking soda, coconut/brown sugar, salt and spices.
Add in the coconut oil, milk, molasses and flax eggs. Mix to combine.
Divide the mixture between 12 muffin cases and bake for 25-30 minutes. Leave to cool completely before icing.
To make the frosting simply blend all the ingredients in a food processor until smooth.
Pipe frosting onto cooled cupcakes.
Enjoy!