7 Reasons why Linwoods flaxseed, cocoa and berry mix is good for you
1. Reduced fat in Linwoods cocoa
We all enjoying eating food that we know is good for us, and while cocoa is very rarely near the top of the list, the cocoa used for Linwoods flax seed, cocoa and berry mix has 75% reduced fat when compared to the cocoa content in most dark chocolate products!  Now that's reason enough to start enjoying it.
2. Packed with great vitamins and minerals
As well as enjoying the great benefits of reduced fat cocoa, you can also look forward to all the added vitamins and minerals that come from milled flaxseed, blueberries and strawberries, including Omega 3 and vitamin B1.
3. Source of iron
Iron is an important mineral for the body, but many of us simply don't get enough iron into our bodies.  Our Linwoods cocoa mix is a great source of iron, providing your body with 17% RDA of Iron (2.4mg) for every 30g serving.  Why do you need iron?  Well, iron helps carry your blood cells carry oxygen around your body, reducing your levels of fatigue and tiredness.
4. Good source of vitamin B1
Vitamin B1 (also known as thiamin or thiamine) is important for our bodies as it helps contribute to the normal function of the heart.  It also helps to support normal energy-yielding metabolism, making our Linwoods cocoa mix a great way to kick-start your daily metabolism.  Linwoods flaxseed, cocoa and berries mix contains 16% of the RDA of vitamin B1 with just 2 dessertspoons.  Add to your morning breakfast smoothie and enjoy.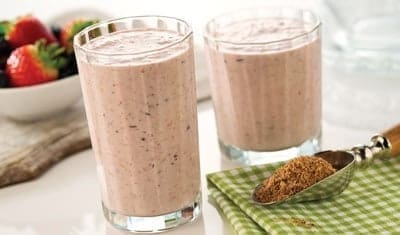 5. Added value of fibre thanks to Flaxseed
As well as ensuring you get a regular intake of iron, dietary fibre is also an important part to maintaining a healthy and balanced diet, and thanks to the addition of milled flaxseed, you can enjoy the benefits of fibre from our Linwoods cocoa mix.  The fibre and liquid content of the berries in the Linwoods flaxseed, cocoa and berry mix can also help give you a sense of fullness, making you less likely to snack during the day, allowing you to look after your waistline.  Find out more about the benefits of fibre in your diet, including the digestion benefits by reading more here.
6. Zinc to help your immune system
Another important mineral for the body is zinc, which helps support the immune system and protects the cells within your body from oxidative stress.  The Linwoods flaxseed, cocoa and berry mix provides your body with 15% RDA of zinc, helping you look after your immunity system with every bite you enjoy.
7. Contains the same antioxidants as 25 portions of fruit and veg
It may seem hard to believe, but just 2 spoonfuls (30g) of our delicious cocoa mix gives your body the same amount of antioxidants as 25 portions of fruit and veg; that's right, 25 portions!  The flavanols contained in the mix provide the antioxidants that help your body maintain a healthy heart and blood circulation.