Rachel Graham, Nutritional Therapist & Medicinal Chef, shares her expertise on menopause nutrition and her top tips on how best to nourish your body during the menopause.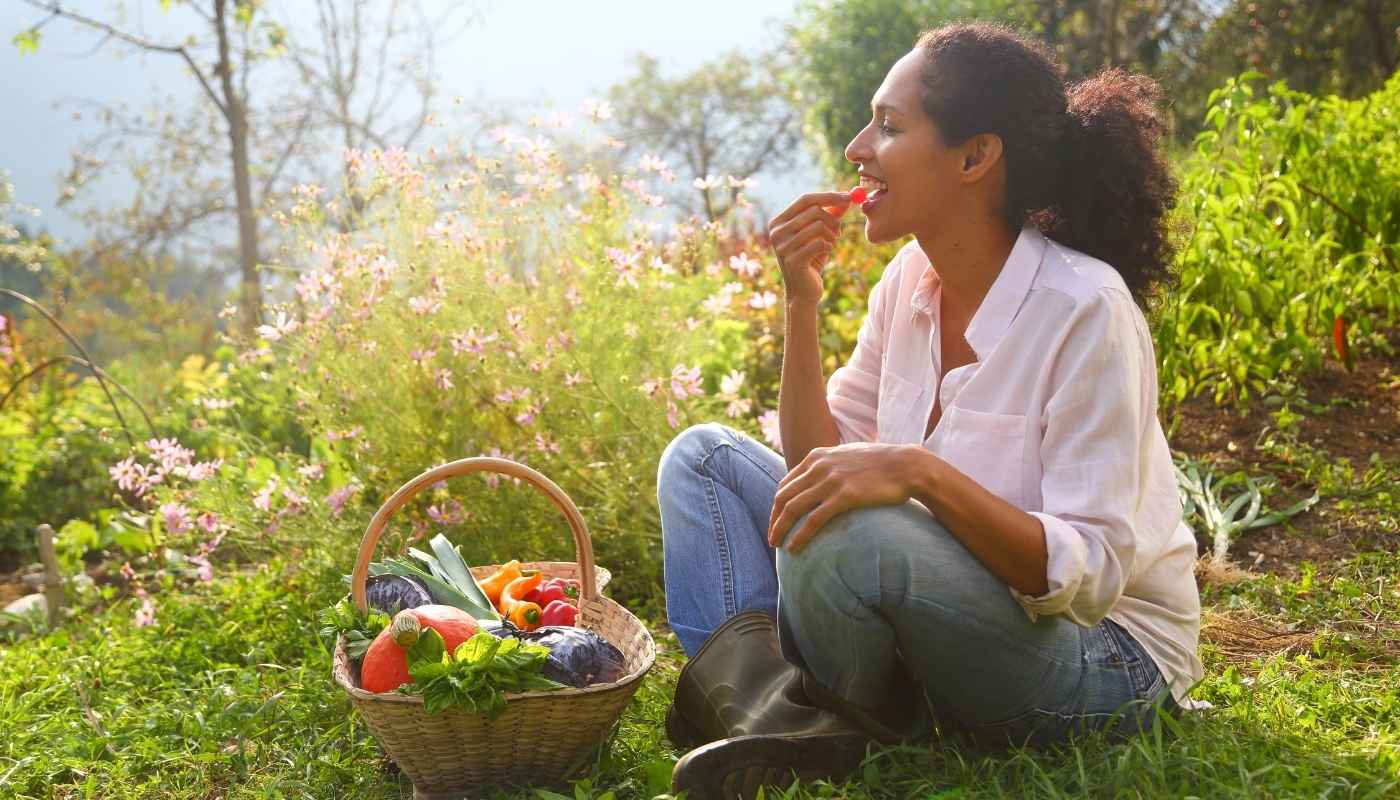 Why is it, that despite living in an era with so much information at our fingertips, so many of us are still confused about what to eat, when to eat and how best to nourish our bodies? In my experience, women in mid-life, going through Menopause seem to be struggling with this issue the most.
Fact is, it can be hard to know what food we need to prioritize during this life stage, for our health, energy, and symptom reduction. Why? because Menopause can hit you hard, with multiple seemingly unrelated health issues, all requiring your attention. To top it off, Menopause symptoms can leave us feeling really frustrated, for lots of reasons, but the main source of frustration is usually the annoying weight gain (more on this later).
Compounding this is the loss of energy, which can prevent us from exercising. Our aching joins are also playing a role & together, both of these symptoms can result in us ending up quite sedentary. It's ironic that this happens at a time when we need to actually prioritize exercise & movement, not just for weight loss, but for our bones & our mental health…
Many of my mid-life clients, arrive at Clinic feeling unhealthy, bloated & tired. They haven't yet joined the dots between these symptoms and the multitude of other Menopause symptoms they may be experiencing – from sore joints & aching muscles to sluggish digestion, mood swings & chronic fatigue.
In fact, most women are usually putting up with all of these symptoms! Not even mentioning them in any great detail, as they assume this is their lot, now that they are in perimenopause…
Their only focus is to lose the stubborn weight gain, that seems to have piled on at an alarming rate!
The thing is, feeling unhealthy, bloated & tired is not a normal part of aging – you don't have to put up with this!
You may also have noticed, that everything which was working up until now to tackle the annoying weight gain, no longer works. All the old tactics to drop a few pounds are no longer effective. No matter what you do, you just can't shift it…
To solve this puzzle, you need to keep in mind, that your biological landscape has changed & the goal posts have been cruelly moved! It's not you, you just need a different approach – a more health-focused approach…
Many of my nutritional recommendations for women in this life stage, revolve around nourishing your body instead of punishing it! This is exactly the different approach I was referring to previously.  If you want to feel energised & lose weight, you need to do things differently. Work with your body not against it.
It's time to support your bone health, your heart health & your hormone health.
Why? Well, two reasons:
As you find yourself at the gateway to the next phase in your life, healthy aging & disease prevention are suddenly staring you in the face! This is the phase of our lives when our health can start to decline & unless we take preventative action, the rate at which we age & decline can really accelerate.

Once you take the focus off weight loss, and turn your attention instead to all the ways you can support your body – using nutrition, exercise, relaxation, meditation as well as making time for social connections – your body will come back into balance & may even start to relinquish those extra pounds. This is a multi-pronged approach that also has multiple benefits to your overall health, beyond just weight loss.
By using this approach, you will:
Reduce the chronic inflammation that may have been there for years. Fact is, inflammation is at the root cause of aching joints, weight gain, fluctuating blood glucose, and much more…
Improve your digestion & detoxification processes that are integral to increasing your metabolism & energy levels, not to mention disease prevention…
Create a personalized nutrition 'template' for YOU, to future-proof your health & wellbeing…
Here are my 5 Nutritional Tips, that you can action straight away, to improve your mid-life health & re-set your hormones…
Eat more vegetables! Fill half your plate with vegetables at every meal – ½ cooked, ½ raw. Include lots of green leafy vegetables in particular
Eat some plant protein every day in the form of hemp seed, beans & lentils to support heart health.
Drink a minimum of 2L of water every day to support your liver & detoxification processes.
Reduce your caffeine by half – opt for antioxidant-rich green tea instead.
Increase your fibre intake – in particular, flaxseed & chia seeds Try the Linwoods functional range of products i.e. Linwoods Menoligna – a sprouted flaxseed & chia seed blend with added lignans which research tells us can improve blood lipid profiles (Edralin A; 2002) & have anti-cancer benefits too. (Horn-Ross; 2002) Flaxseed & chia seeds are rich in ALA omega-3 essential fats. We cannot manufacture these ourselves so we have to get them from dietary sources – hence why they are called essential! Add two tablespoons daily to porridge or smoothies for an easy way to increase your B vitamins, calcium, magnesium & fibre.
—————————————————————————————————
Hi! I'm Rachel, here's a little bit about me and how I can help you!
WHAT I DO:
I'm a Nutritional Therapist & Medicinal Chef with over 25 years of Food & Nutrition experience.
I work predominantly in Women's Health with an emphasis on Menopause. This naturally incorporates gut health, heart health & hormone health.
I am an accredited Menopause educator from The British Menopause Charity. I am qualified to advise women of the various treatment options available to manage the symptoms of menopause, including:
HRT 
Alternatives to HRT(supplements, lifestyle & alternative therapies)
Nutrition for Menopause – my new cookbook will be published in November 2022 with pre-orders open from September!
I run an online clinic with 1:1 consultations + group coaching specifically for Menopause
(https://menopausenutritionist.ie/meno-morphosis)
I also offer Meal Prep classes to give you the practical skills to improve your diet.
If you need help & would like to get in touch, just click here to book in for a quick chat