We've teamed up with UK Specialist Registered Dietitian Nichola Whithead (Nic's Nutrition) to give you some New Year healthy eating tips!
With Christmas and New Year celebrations over, it may seem like a great time to address your diet and set a New Year's resolution to "eat healthy". Given that most New Year's resolutions fail by February/March though, a better idea is to try and incorporate some simple lifestyle tips that are easy to sustain all year, which will give you MUCH better results in the long term!
Here are three suggestions of what you can do this January to not only kick start, but carry you through a healthier and hopefully happier 2017 too!
1) Change your Food Environment – When it comes to eating healthily the best thing you can do is make the healthy choice the easy choice. And there are a few things that you can do to 'nudge' yourself to automatically making the better choice:
Keep all high calorie/sugar/fat foods such as cakes, biscuits, leftover mince pies and chocolates in one specific cupboard, or even better out of the house altogether. When foods are dotted about the house (for example a box of chocolates on a coffee table!) we are more likely to munch on them even if we're not really hungry. Keeping them out of the house (for example giving your chocolates away) means that we don't have to reply on will-power to resist eating them on an evening!
De-clutter your kitchen worktops and re-fill your fruit bowl with fruits that you love. Make a habit of ALWAYS having a fruit bowl on display; it will act as a visual reminder as to what to munch on next time you feel peckish! Fruit is relatively low in calories and packed with nutrients to keep you glowing inside and out.
Swap around the cereal cupboard. Keep cereals such as porridge oats at the front of the cupboard and any sugary cereals at the back. Even better, keep a half cup measure with your oats for a super quick and easy way of measuring them out on a morning.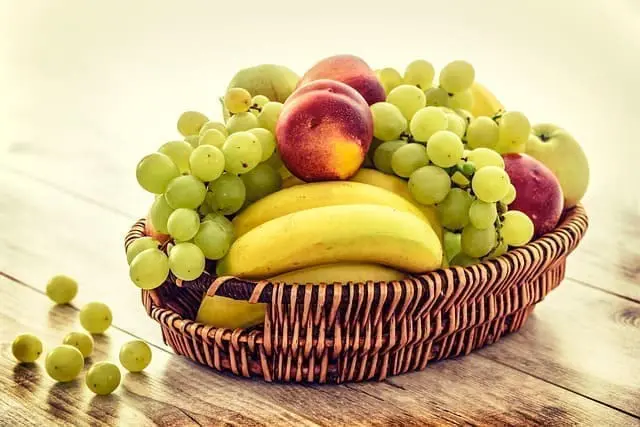 2) Practice High-Impact Healthy Habits – Habits are things that we do frequently without even thinking about it, and healthy habits make weight loss/healthy eating really easy. The key is to start small, but do them consistently every day. When you do something regularly, the results will come. Here are a few of my personal favourites:
Aim for 10,000 steps a day. Get into a habit of sneaking in extra steps where you can; whether it's parking your car in the furthest spot away from work or the shops, taking the stairs instead of the lift or going for a stroll during your lunch break; the steps really do add up and it's a great calorie burner too!
Add a sprinkle or handful of goodness to every meal or snack. There are so many ways that you can boost your nutrient intake; whether it's adding a few spoon of Linwoods Flaxseed mixes to your porridge, yoghurt or salad for added healthy fats and fibre to support a healthy heart and digestive system, or adding a handful of spinach to smoothie for extra vitamin A and C for your immune system; the key is the add these foods consistently; for a daily dietary top up!
Get 7 to 8 hours sleep a night. Get into the habit of going to bed at a time that will allow you to get a decent night's sleep. Getting enough sleep helps to control hunger levels the following day as well as giving you the energy to not only work out but to prep and cook healthy meals as well!
3) Invest in Healthy Gadgets – Take advantage of the January sales by investing in gadgets and equipment that will make 2017 the healthiest yet. Don't go overboard though; do your research and only buy items that you know that you will use regularly! Some of my favourite healthy gadgets are:
A spiralizer. If you've never heard of a spiralizer before, they turn vegetables such as courgette and carrot, as well as sweet potato into 'noodles' which you can pan fry or bake for a delicious addition to a meal. I'm a huge fan of making vegetables 'fun' to eat and this definitely has increased my intake of courgette! You can even spiralize cucumber and use it in a salad or use the 'ribbon cutter' for wider strips.
A fitness tracker. Fitness trackers are a great way of motivating you to work out and walk more and they can even sync up with friends who have the same tracker as you via apps. So ask your friends first if they have one as you may want to get one from the same brand!
A blender with an 'on the go keep cup'. I've owned a fair few blenders in my time and the best ones are always the ones where you can blend and go i.e. you blend your ingredients in the same cup that you drink out of. It makes preparing and enjoying smoothies quick and simple and it even saves on the washing up afterwards too!