Christmas is a time for fun, parties and festivities but it's also a time when we typically overeat and overindulge. Often it's when we're attending parties or having visitors over that the old "why not, it's Christmas!" excuse gets rolled out. We're all for letting our hairs down and enjoying ourselves as much as the next person but wouldn't it be great if you could have your (healthy) cake and eat it?!
We've put together some of our favourite Christmas party food recipes that are all healthy, vegan and gluten free! And they're all packed with healthy, nutrient dense ingredients – enjoy!
Topped with beetroot and cashew cheese, these vegan pizzas are the perfect canapés for your guests to enjoy!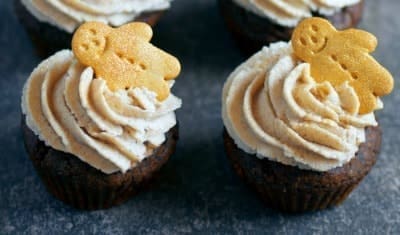 Gingerbread. Cinnamon. Cupcakes. The perfect combination for delightful Christmas treats!
These Glittery Cake Pops almost look too good to eat! Add a little sparkle to your party – kids and adults alike will love them!
Chocolate & Peanut Butter Fudge Bars
We all know either a chocolate or peanut butter addict so it's win-win when you make these fab fudge bars!
Chocolate Chip Blondie Brownies
Have these on their own or topped with some tasty nice-cream for a healthy dessert!
Leave these cookies out with a glass of milk and we're pretty sure you'll be on Santa's nice list!