Jump to recipe
Fig, orange & ginger brownies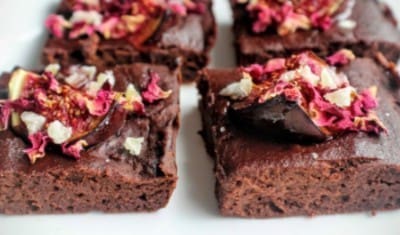 Ingredients
2 cups gluten-free flour
3 tablespoons Linwoods Milled Organic Flaxseed
¼ cup ground almonds
1 teaspoon baking powder
1 teaspoon ground ginger
⅓ cup coconut or brown sugar
4 tablespoons cocoa or cacao powder
½ cup unsweetened apple puree
1 cup cooked sweet potato or butternut squash cubes
2 tablespoons tahini
1 teaspoon vanilla extract
1 egg
3 tablespoons honey or maple syrup
Juice of 2 oranges
3-4 fresh figs, quartered
To decorate: Dried rose petals and chopped crystallised ginger
Instructions
Preheat the oven to 180 degrees C and grease and line a square baking tin.
In a large bowl, mix together the flour, flaxseed, ground almonds, baking powder, ginger, coconut/brown sugar and cacao/cocoa powder.
Place the apple puree, cooked sweet potato or squash, tahini, vanilla, egg, honey/maple syrup and orange juice in a blender and whizz up until smooth.
Pour this into the dry ingredients and mix to combine. Spoon into your tin and spread out evenly.
Arrange the fig quarters on top depending on how you intend to cut once baked, so each slice has one on top. Now bake for about 30 minutes, covering halfway to prevent burning, until firm to the touch. Leave to cool in the tin.
Now remove from the tin, slice up and decorate. Enjoy!
Keep any remaining slices in the fridge in an airtight container for up to 3 days.