Jump to recipe
Banoffee Bites by Peanut Butter Girl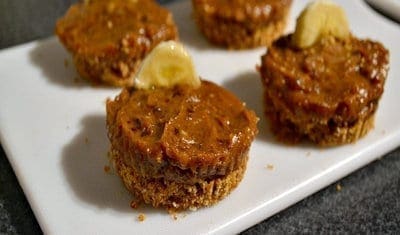 Notes
Recipe by Linwoods & Peanut Butter Girl (http://thepeanutbuttergirl.com/)

Ingredients
Base:
2 Tbsp of Linwoods flaxseed
10 Pitted Dates
½ Cup of Coconut flour
2 Tbsp of Coconut oil
1 Tbsp of unsweetened shredded coconut
4 Tbsp of Maple or Coconut Syrup
Caramel Topping:
24 dates
3 Tbsp of Almond Butter
3 Tbsp of water
A chopped banana to decorate
Instructions
In a food processor place all base ingredients. Blend together until mixture is fine and grain like.
Test if the mixture sticks together by pressing with the back of a spoon to see if the mixture holds in place (if not, feel free to add another tbsp of maple or coconut syrup)
Using 10 cupcake cases…place one heaped teaspoon in each and press down with the back of your spoon in order to allow bases to fill the bottom of each case evenly and to allow the base to hold together as they set. Place in the freezer while you make your caramel.
Add all caramel ingredients to a food processor and blend. This takes patience as extra blending time is required to remove all date pieces, to allow for a smooth and creamy caramel.
Once completely smooth, remove bases from freezer and use a table spoon to place caramel onto each base. Spread carefully and as smoothly as possible.
Place back in freezer for 20 minutes to set.
Once removed, carefully peel off each case. Slice a banana and decorate your mini banoffee bites.